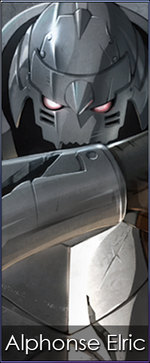 | | | | | | | | | | | |
| --- | --- | --- | --- | --- | --- | --- | --- | --- | --- | --- |
| HP | | | | | 10 | | | | | |
| AD |   1 | | | | | | | | | |
| AP | | 4 | | | | | | | | |
| Support | | | 6 | | | | | | | |
| Difficulty | | | | 7 | | | | | | |
| Gold | 420  | | | | | | | | | |
| Diamond | 12 | | | | | | | | | |
| | | | |
| --- | --- | --- | --- |
| Health Point | 645 (+79) | Attack Damage | 53 (+3) |
| Mana Point | 0 (+0) | Attack Speed | 0.63 (+0.03) |
| Armor | 30.5 (+3.5) | Move Speed | 300 |
| Magic Resist | 33 (+1.25) | Range | 140 |
Abilities
---
Heart of Steel
Cost: -   Cooldown : -
Passive - The heart of steel is always agitated. When Alphonse's basic attacks or skills hit an enemy, Alphonse restores his own Health by [35 + (5 x Hero Level)] + [(0.5 x Hero Level)% of Alphonse's maximum Health], this effect can't be triggered more than once within 16 seconds. Each hit of Alphonse's basic skills on an enemy hero will reduce the interval to trigger Heart of Steel by 4 seconds and permanently grant 3 bonus Health to Alphonse (can't trigger on the same target more than once within 4 seconds). Each non-hero kill grants 3 bonus Health to Alphonse and reduces the interval to trigger Heart of Steel by 4 seconds. Each hero kill or assist grants 12 bonus Health to Alphonse and resets the interval to trigger Heart of Steel once. (Bonus Health can't be stacked more than 1800)
---
Earth Shock [Q]
Cost: 30 / 40 / 50 / 60 / 70 Health   Cooldown: 13 seconds
Active - Alphonse draws a Transmutation Circle at his current location, dealing 80/120/160/200/240 + [0.6 AP] magic damage to all nearby enemies and knocking them up in the air.
---
Iron Will [W]
Cost: 2 / 3 / 4 / 5 / 6 Health   Cooldown: 2 seconds
Active (Toggle) - Alphonse releases his power, consuming his own life force by 2/3/4/5/6 Health per 0.25 seconds and dealing 10/15/20/25/30 + [0.08 AP] magic damage per 0.25 seconds to all nearby enemies. Clicking this skill again will toggle off the skill effect.
Note - This skill has a fixed interval of 0.5 seconds to prevent a double-clicking.
---
Armor Collision [E]
Cost: 40 / 55 / 65 / 75 / 85 Health   Cooldown: 14 / 13 / 12 / 11 / 10 seconds
Active - Alphonse dashes toward a target enemy unit., dealing 50/100/150/200/250 + [0.6 AP] magic damage to the target and knocking them back. If the target collides with terrain while being knocked back, they will be stunned for 1.5 seconds.
Note - When using an item that causes Alphonse to change his facing direction while dashing toward the target, Alphonse will knock the target toward the new direction he is currently facing instead. (For example, using Unlimited Gun Gloves to a minion or monster nearby) (This is considered a bug)
---
The Gate of Truth [R]
Cost: -   Cooldown: 90 seconds
Active - Alphonse curses a target enemy hero by using the power of The Gate of Truth. Each time he takes damage, he will deal 100% of the damage he takes as true damage to the cursed target. The curse lasts for 4/5/6 seconds.
Note - The debuff from this skill can't be dispelled.
---
Skins
---

Aphonse Elric

Knight of Glory Alphonse
Community content is available under
CC-BY-SA
unless otherwise noted.