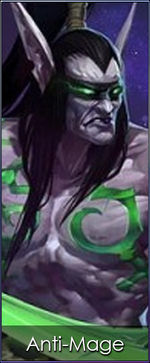 | | | | | | | | | | | |
| --- | --- | --- | --- | --- | --- | --- | --- | --- | --- | --- |
| HP | | | | 8 | | | | | | |
| AD | | | | 7 | | | | | | |
| AP | | 3 | | | | | | | | |
| Support | | 3 | | | | | | | | |
| Difficulty | | 4 | | | | | | | | |
| Gold | 3800 | | | | | | | | | |
| Diamond | 40 | | | | | | | | | |
| | | | |
| --- | --- | --- | --- |
| Health Point | 580 (+75) | Attack Damage | 56 (+3.3) |
| Mana Point | 260 (+33) | Attack Speed | 0.71 (+0.04) |
| Armor | 17 (+3.5) | Move Speed | 305 |
| Magic Resist | 33 (+1.5) | Range | 140 |
Abilities
---
Eternal Immolation
Cost: -   Cooldown: -
Passive (Bonus Attribute) - For each maximum level of his skills, Anti-Mage gains 40 bonus Health, 5% bonus Attack Speed, 40 bonus Mana, 7 bonus Ability Power and 4 bonus Attack Damage.
Passive (Eternal Immolation) - Anti-Mage continuously deals 5 + [0.1 bonus AD] per second to nearby enemies.
---
Mana Break [Q]
Cost: 8 Mana   Static Cooldown: 2 seconds
Passive - Anti-Mage gains 15%/25%/35%/45%/45% bonus Attack Speed.
Passive - Anti-Mage turns the enemies' magical energies back to their owner, making each of his basic attacks deal 10/25/40/55/55 + [0.2 AD] bonus magic damage while burning the target's Mana by 20/28/36/44/44 + [0.1 AP] Mana.
Active (Toggle) - When toggled, each of Anti-Mage's basic attacks consumes 8 Mana to deal 60% of Anti-Mage's Attack Damage to all enemy units around the primary target in a cone-shaped area with 450 splash range. The splash damage can also be affected by attack effects such as critical strike, life steal, on-hit effects, skill effects, and item effects. Clicking this skill again will toggle off this skill effect.
Note - This skill is not affected by cooldown reduction effects.
Note - The attack effects on the splash damage deal 100% of their effect on all targets hit.
Note - Each 1/2/3/4/5/6+ targets Anti-Mage hits within a single basic attack while activating the splash attack, Anti-Mage's Life Steal triggers its effect on each target by 100%/55%/40%/32.5%/28%/20% of the Life Steal effect he has (for a total of 100%/110%/120%/130%/140%/120%+).
---
Blink [W]
Cost: 70 Mana   Cooldown: 11 / 9 / 7 / 5 / 5 seconds
Active - Anti-Mage teleports to the target location and gains a magic shield that can absorb 50/100/150/200/200 + [0.4 AP] magic damage upon arrival for 1.5 seconds.
Note - Activating this skill resets Anti-Mage's basic attack animation upon arriving on the target location.
---
Mana Shield [E]
Cost: -   Cooldown: -
Passive - Anti-Mage's skin have hardened against mystical opponents, increasing his resistance to magic damage by 16%/24%/32%/40%/40%.
---
Mana Void [R]
Cost: -   Cooldown: 80 / 70 / 60 seconds
Active - Anti-Mage bursts the arcane energies within the target unit, dealing 250/400/550 + [1.0 AP] + [Target's AP] magic damage and stunning them for 0.1/0.2/0.3 seconds. Half of its damage is dealt on surrounding enemies.
---
Skins
---

Anti-Mage