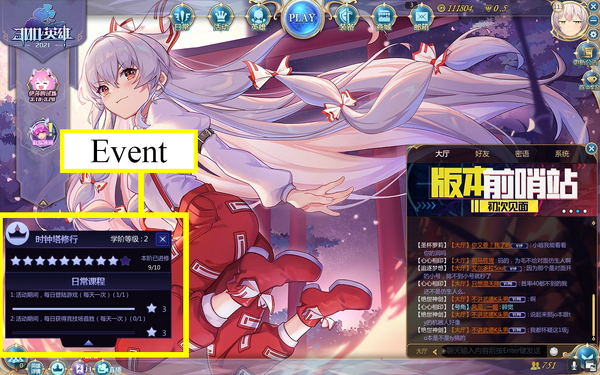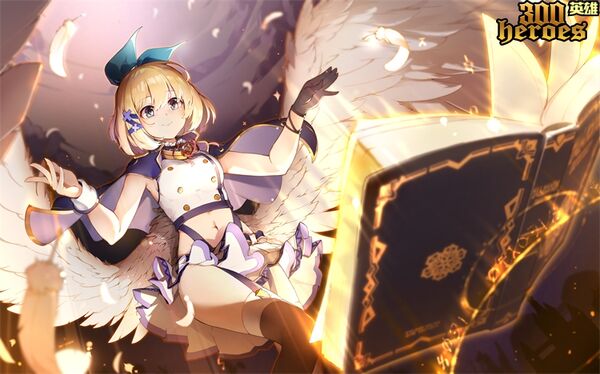 Event Time
Start: 25 February 2021
End: 24 March 2021
Event Information
Welcome back again with the special course with the main branch of the Mage's Association Clock Tower. Within this magician school, a series of courses (quests) has been launched to prepare students (players) as usual. The courses are divided into 3 types, Daily Quest, Weekly Quest, and Special Quest.
Daily Quest and Weekly Quest are available for all students but Special Quest is only available for those students who pay Tuition Fee in a form of Diamonds, the cost of Tuition Fee is 69 Diamonds (discounted from a full price of 88 Diamonds), purchasing the Tuition Fee will automatically give Clock Tower Advanced Practice Activation Card to the purchaser which will be automatically consumed to grant permission for purchaser to do Special Quests and earn rewards from Advanced Practice of this event.
For each task students complete, they will get stars that can be accumulated for increasing their grade, every 10 stars will be converted into 1 grade, and students who reach 40th grade will be considered as "finish the event".
For each grade students reach, they will gain specified rewards according to that grade. However, there are 2 types of reward list available in this event, the first list is called Basic Practice (基础修行), and the 2nd list is called Advanced Practice (高阶修行). The rewards from Basic Practice are available for all students while the rewards from Advanced Practice are available only for those who pay Tuition Fee.
For students who miss a few grades to complete this event, they can purchase a missing grade by clicking on the Purchase Grade button to purchase Clock Tower Grade Increase Card at a cost of 10 Diamonds per package. The Clock Tower Grade Increase Card is automatically consumed upon purchase and each consume automatically increases your current grade by 1 (increases 10 stars (
)).
Reward List
Basic Practice
Advanced Practice
---
Exchange Rewards
During the event period, you can use Mg Original Stone to exchange for the skins or special items. The list of all available items and skins that can be exchanged during the event is as follows:
---
Daily Quest
Task A (Daily Quest): During the event, daily log in the game once to obtain the following rewards:
Task B (Daily Quest): During the event, daily get a first win in Eternal Arena to obtain the following rewards:
---
Weekly Quest
1st Week
Task A (One-Time Quest): During the 1st week of the event, accumulate a total of 60 Unit Kills to obtain the following rewards:
Task B (One-Time Quest): During the 1st week of the event, accumulate a total of 40 Monster Kills in Eternal Arena to obtain the following rewards:
Task C (One-Time Quest): During the 1st week of the event, accumulate a total of 1 Greater Dragon (

) Kill to obtain the following rewards:
Task D (One-Time Quest): During the 1st week of the event, accumulate a total of 2 Lesser Dragon (

) Kills to obtain the following rewards:
2nd Week
Start: 1 March 2021
End: 7 March 2021
Task A (One-Time Quest): During the 2nd week of the event, use following heroes: Kongou, Kirito, Himura Kenshin, Kamado Tanjirou, Kikyou, Oshino Shinobu, Kanna Kamui and obtain 1 win in Eternal Arena or Eternal Battlefield to obtain the following rewards:
Task B (One-Time Quest): During the 2nd week of the event, use following heroes: Kongou, Kirito, Himura Kenshin, Kamado Tanjirou, Kikyou, Oshino Shinobu, Kanna Kamui and obtain 3 wins in Eternal Arena or Eternal Battlefield to obtain the following rewards:
Task C (One-Time Quest): During the 2nd week of the event, use following heroes: Kongou, Kirito, Himura Kenshin, Kamado Tanjirou, Kikyou, Oshino Shinobu, Kanna Kamui and obtain 5 wins in Eternal Arena or Eternal Battlefield to obtain the following rewards:
Task D (One-Time Quest): During the 2nd week of the event, accumulate a total of 1 first win in Eternal Battlefield to obtain the following rewards:
Task E (One-Time Quest): During the 2nd week of the event, accumulate a total of 2 first wins in Eternal Battlefield to obtain the following rewards:
Task F (One-Time Quest): During the 2nd week of the event, accumulate a total of 3 first wins in Eternal Battlefield to obtain the following rewards:
Task G (One-Time Quest): During the 2nd week of the event, accumulate a total of 35 Hero Kills to obtain the following rewards:
Task H (One-Time Quest): During the 2nd week of the event, accumulate a total of 35 Assists to obtain the following rewards:
3rd Week
Start: 8 March 2021
End: 14 March 2021
Task A (One-Time Quest): During the 3rd week of the event, accumulate a total of 1 first win in Eternal Arena to obtain the following rewards:
Task B (One-Time Quest): During the 3rd week of the event, accumulate a total of 2 first wins in Eternal Arena to obtain the following rewards:
Task C (One-Time Quest): During the 3rd week of the event, accumulate a total of 3 first wins in Eternal Arena to obtain the following rewards:
Task D (One-Time Quest): During the 3rd week of the event, accumulate a total of 35 Hero Kills to obtain the following rewards:
Task E (One-Time Quest): During the 3rd week of the event, accumulate a total of 35 Assists to obtain the following rewards:
Task F (One-Time Quest): During the 3rd week of the event, accumulate a total of 4 Swords (

) to obtain the following rewards:
Task G (One-Time Quest): During the 3rd week of the event, accumulate a total of 4 Shields (

) to obtain the following rewards:
Task H (One-Time Quest): During the 3rd week of the event, accumulate a total of 4 Fists (

) to obtain the following rewards:
4th Week
Start: 15 March 2021
End: 21 March 2021
Task A (One-Time Quest): During the 4th week of the event, accumulate a total of 2 wins in Eternal Arena or Eternal Battlefield to obtain the following rewards:
Task B (One-Time Quest): During the 4th week of the event, accumulate a total of 4 wins in Eternal Arena or Eternal Battlefield to obtain the following rewards:
Task C (One-Time Quest): During the 4th week of the event, accumulate a total of 6 wins in Eternal Arena or Eternal Battlefield to obtain the following rewards:
Task D (One-Time Quest): During the 4th week of the event, accumulate a total of 100 Unit Kills to obtain the following rewards:
Task E (One-Time Quest): During the 4th week of the event, accumulate a total of 70 Monster Kills in Eternal Arena to obtain the following rewards:
Task F (One-Time Quest): During the 4th week of the event, accumulate a total of 2 Greater Dragon (

) Kills to obtain the following rewards:
Task G (One-Time Quest): During the 4th week of the event, accumulate a total of 5 Lesser Dragon (

) Kills to obtain the following rewards:
Task H (One-Time Quest): During the 4th week of the event, accumulate a total of 6 Demolitions of buildings to obtain the following rewards:
5th Week
Start: 22 March 2021
End: 24 March 2021
Task A (One-Time Quest): During the 5th week of the event, accumulate a total of 2 wins in Eternal Arena or Eternal Battlefield to obtain the following rewards:
Task B (One-Time Quest): During the 5th week of the event, accumulate a total of 4 wins in Eternal Arena or Eternal Battlefield to obtain the following rewards:
Task C (One-Time Quest): During the 5th week of the event, accumulate a total of 6 wins in Eternal Arena or Eternal Battlefield to obtain the following rewards:
Task D (One-Time Quest): During the 5th week of the event, accumulate a total of 1 login day to obtain the following rewards:
Task E (One-Time Quest): During the 5th week of the event, accumulate a total of 2 login days to obtain the following rewards:
Task F (One-Time Quest): During the 5th week of the event, accumulate a total of 100 Unit Kills to obtain the following rewards:
Task G (One-Time Quest): During the 5th week of the event, accumulate a total of 70 Monster Kills in Eternal Arena to obtain the following rewards:
Task H (One-Time Quest): During the 5th week of the event, complete all of the above tasks of the 5th week to obtain the following rewards:
---
Special Quest
Task A (One-Time Quest): During the event and after paying the Tuition Fee, accumulate a total of 5 login days to obtain the following rewards:
Task B (One-Time Quest): During the event and after paying the Tuition Fee, accumulate a total of 10 login days to obtain the following rewards:
Task C (One-Time Quest): During the event and after paying the Tuition Fee, accumulate a total of 15 login days to obtain the following rewards:
Task D (One-Time Quest): During the event and after paying the Tuition Fee, accumulate a total of 2 wins in Eternal Arena or Eternal Battlefield to obtain the following rewards:
Task E (One-Time Quest): During the event and after paying the Tuition Fee, accumulate a total of 6 wins in Eternal Arena or Eternal Battlefield to obtain the following rewards:
Task F (One-Time Quest): During the event and after paying the Tuition Fee, accumulate a total of 10 wins in Eternal Arena or Eternal Battlefield to obtain the following rewards:
Task G (One-Time Quest): During the event and after paying the Tuition Fee, accumulate a total of 14 wins in Eternal Arena or Eternal Battlefield to obtain the following rewards:
Task H (One-Time Quest): During the event and after paying the Tuition Fee, accumulate a total of 18 wins in Eternal Arena or Eternal Battlefield to obtain the following rewards:
Task I (One-Time Quest): During the event and after paying the Tuition Fee, accumulate a total of 100 Hero Kills to obtain the following rewards:
Task J (One-Time Quest): During the event and after paying the Tuition Fee, accumulate a total of 100 Assists to obtain the following rewards:
Task K (One-Time Quest): During the event and after paying the Tuition Fee, accumulate a total of 1000 Unit Kills to obtain the following rewards:
Task K (One-Time Quest): During the event and after paying the Tuition Fee, accumulate a total of 200 Monster Kills in Eternal Arena to obtain the following rewards:
Task L (One-Time Quest): During the event and after paying the Tuition Fee, accumulate a total of 15 Demolitions of buildings to obtain the following rewards:
---
---