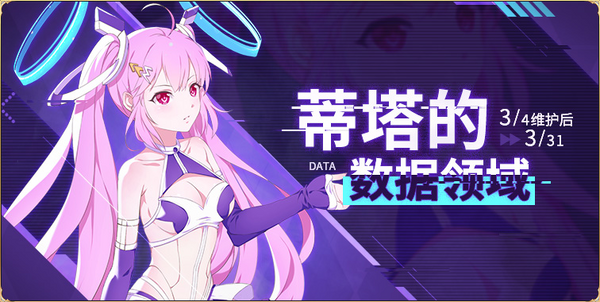 Event Introduction
The current Dita's Data Field event is an event wherein players complete weekly tasks to receive weekly rewards and specific tokens that can be collected to earn milestone rewards from the event.
The event interface can be accessed by clicking on the Dita's Data Field icon () on the Lobby Interface.
The event is divided into 4 phases with each phase has its own tasks and rewards, all tasks of 1st phase - 4th phase are similar and each phase lasts for 1 week. Upon the end of each phase of the event, all tasks will be reset and you can complete them once again.
Each task of this event will grant a certain amount of Source Code () as a token of this event, you can collect a certain amount of them to exchange for corresponding rewards (milestone rewards) on the right side of the event interface.
Upon collecting 60 Source Codes, you will be able to exchange all milestone rewards on the right side of the event interface.
Event Time
1st Phase: 4 March 2021 - 10 March 2021
2nd Phase: 11 March 2021 - 17 March 2021
3rd Phase: 18 March 2021 - 24 March 2021
4th Phase: 25 March 2021 - 31 March 2021
Task Information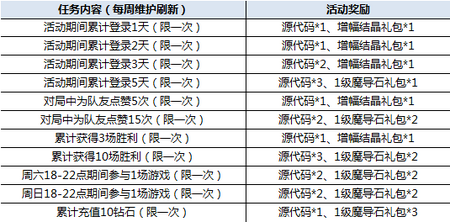 Task A (One-Time Quest): During the event, accumulate a total of 1 Login Day to obtain the following rewards:
Task B (One-Time Quest): During the event, accumulate a total of 2 Login Days to obtain the following rewards:
Task C (One-Time Quest): During the event, accumulate a total of 3 Login Days to obtain the following rewards:
Task D (One-Time Quest): During the event, accumulate a total of 5 Login Days to obtain the following rewards:
Task E (One-Time Quest): During the event, give Like (Thumb Up) to allied players within the match at least 5 times to obtain the following rewards:
Task F (One-Time Quest): During the event, give Like (Thumb Up) to allied players within the match at least 15 times to obtain the following rewards:
Task G (One-Time Quest): During the event, accumulate a total of 3 victories to obtain the following rewards:
Task H (One-Time Quest): During the event, accumulate a total of 10 victories to obtain the following rewards:
Task I (One-Time Quest): During the event, participate in at least 1 game during 6.00 PM - 10.00 PM on 6th of the week (Saturday) to obtain the following rewards:
Task J (One-Time Quest): During the event, participate in at least 1 game during 6.00 PM - 10.00 PM on 7th of the week (Sunday) to obtain the following rewards:
Task K (One-Time Quest): During the event, accumulate a total top-up at least 10 Diamonds to obtain the following rewards:
Source Code's Rewards

Sources
Event Announcement: https://300.jumpw.com/details/301/13536.html
---
---