The Game Introduction section will lead you through learning about how to get into the game by following each section below.
Registration
In order to register this game, the Chinese Phone Number to receive SMS and the Chinese Citizen ID for identification are required. The instruction on how to register this game will be as follows:
First, Enter the Official Website to register.
Click the Jump Passport Website through () for registration.
For players who don't have Chinese Citizen ID, HERE is the example website for generating one.
For players who don't have Chinese Phone Number to receive SMS, HERE is the example website for generating one.
For players who already obtained both Chinese Citizen ID and verified SMS but can't access the game due to some verification issues, you can try using VPN for the first attempt to log in the game to verify yourself that you are logging in from China (the most recommended one is UU163 (Official Website)).
Remember to keep both your Chinese Citizen ID and SMS (even they're fake) and all other information related to the ID for future events or confirmation of your identity.
Choose to registration as a personal account and fill in the information as shown in the image below:
Click  to confirm and you can enjoy the game~
If you want to get all the rewards from Security Information Binding Activity, you can log in to your account at the JUMP Passport Homepage and access your Jump Passport so you could fill all of your missing personal information.
At Jump Passport there is also an option for transferring money from the passport (or its alternative name "Jump Platform") to other games such as "300 Heroes", "300 Big Battle", "Gun World"...etc.
---
---
Downloading & Installing
Downloading
Official Link (Fast Installation): HERE
: Is Fast Installation. You can get an initial installer from here that can be used to download the full game through internet connection.
It is recommended to set the name of the game's destination folder to English since some non-Chinese Local Systems might not be able to read it.
---
---
Patcher & Connections
Patcher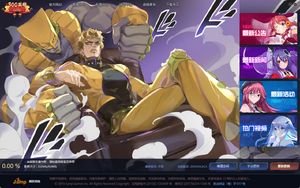 You need to wait until the Patcher finishes in updating the game. Trying to force your entry to the game while it's still not fully updated will cause your game files to be corrupted.
Sometimes the updating is in progress, but the patcher interface is not showing up. If this happens, you can wait for a while until the login interface shows up. But if it takes too much time, you can just re-download the installer of the latest version on the official website.
VPN
If you are experiencing problems regarding a patch not being acquired through the patcher due to having a bad connection to the server, a VPN might be able to help stabilize your connection to the JUMP's servers.
Here is a list of some good VPN providers.

Free Trial & Paid Later
Free Forever
---
---
Language Problem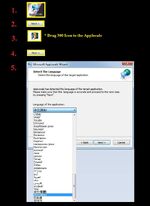 Since this is a Chinese game, you may need one of these methods to see the Chinese language in the game.
System Locale
You can change your Window's System Locale by going to Start -> Control Panel -> Clock, Language and Region -> Region and Language -> Administrative -> Language for non-Unicode program -> Change system locale... -> Set it to Chinese-Simplified PRC. [The method in doing this is different for Windows 8 and above]
Applocale
By accessing the game with Applocale. It temporarily allows the user to run a non-Unicode program (300 Heroes) in a locale of the user's choice (Chinese locale).
Locale Emulator
You can use a program called Locale Emulator to run the game with the desired locale you want whenever you want to run a program without restarting your PC. Follow these simple steps in order to get it working.
1. Download the zip file found on the link above.
2. Extract the contents and open the file called LEInstaller. Once you're done, it should give a message that it has finished installing.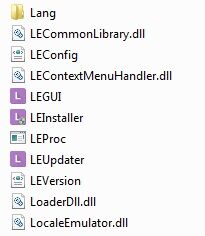 3. Once it has finished installing, right-click the application you want to change the locale with and you should see that there's a new option now labeled as "Locale Emulator". Hover your mouse into it and a few more options should appear to the right.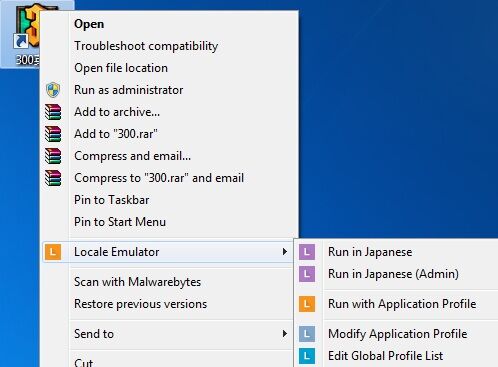 4. Select "Edit Global Profile List" and you should see this window. Here you can set the locale you want. In 300 Heroes' case, we use Chinese. Ignore the "Run in Chinese" drop down on the first one because we'll have to make it later. so select Chinese (Simplified) from the location and change the timezone to (UTC+08:00) Beijing, Chongqing, Hong Kong, Urumqi. Just copy the settings in here and press Save As to make a new name for it and type "Run in Chinese".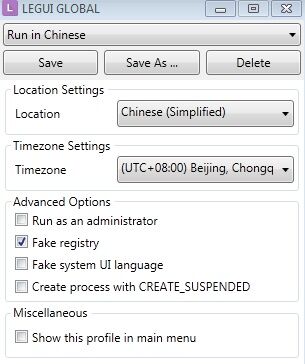 5. It should now appear on the list of Locale Emulator.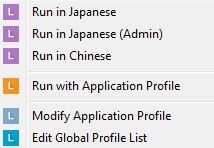 Now that's done, all you have to do when you want to run your game is right click and select Run in Chinese and that application should run with the profile you have set.
---
---
Login Interface Server & Servers List
Login Interface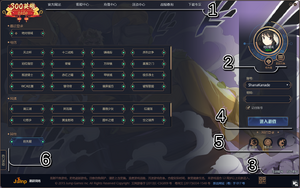 Refer to the picture on the right for the following:
Login to the Lobby Interface
Internet Cafe Login (Only for players who live in China)
On-going Events
Servers List
Regions
Servers

China Netcom (Hong Kong)


Avalon
(阿瓦隆)
(2018.07 - Group J)

Rozen Maiden
(蔷薇少女)
(2017.07 - Group J)

Koumakan
(红魔馆)
(2017.01 - Group J)

Gensokyo
(幻想乡)
(2016.07 - Group J)

Golden Theater
(黄金剧场)
(2016.01 - Group G)

Law of Cycles
(圆环之理)
(2015.07 - Group G)

Kara no Kyoukai
(空之境界)
(2015.02 - Group G)

China Telecom (Mainland China)


Beyond Paradise
(超越天堂)
(2020.04)

Utopia
(理想乡)
(2020.01 - Group L)

Heaven's Feel
(天之杯)
(2019.07 - Group L)

The Twelve Labors
(十二试炼)
(2019.04 - Group L)

Rakshasa Street
(镇魂街)
(2018.12 - Group L)

Ordinal Scale
(序列之争)
(2018.09 - Group L)

Grand Order
(冠位指定)
(2018.07 - Group L)

GLORY
(荣耀)
(2018.04 - Group L)

Kaleidoscope
(万华镜)
(2018.02 - Group K)

Gate of Truth
(真理之门)
(2017.09 - Group K)

Rebellious Knight
(叛逆骑士)
(2017.07 - Group K)

Akame Ga Kill
(赤红之瞳)
(2017.04 - Group I)

Koutetsujou
(甲铁城)
(2017.01 - Group K)

Gokuraku Jodo
(极乐净土)
(2016.09 - Group K)

World Cyber Arena
(WCA)
(2016.07 - Group I)

Naval District
(镇守府)
(2016.07 - Group I)

Kyoukai no Kanata
(境界彼方)
(2016.04 - Group I)

Hagun Utahime
(破军歌姬)
(2016.01 - Group H)

Angel of Extinction
(绝灭天使)
(2015.12 - Group H)

Raising Heart
(旭日之心)
(2015.09 - Group H)

Koihime Musou
(恋姬无双)
(2015.08 - Group H)

Accel World
(加速世界)
(2015.08 - Group H)

Lost Christmas
(失落圣诞)
(2015.07 - Group H)

Flame of Heaven
(天壤劫火)
(2015.04 - Group F)

Walpurgisnacht
(魔女之夜)
(2015.02 - Group F)

Fantasy Seal
(梦想封印)
(2015.02 - Group F)

Unlimited Blade Works
(无限剑制)
(2014.12 - Group F)

Academy City
(学园都市)
(2014 - Group D)

Holy Grail War
(圣杯战争)
(2014.05 - Group D)

Attack on Titan
(进击巨人)
(2014.9 - Group E)

Sora no Otoshimono
(天降之物)
(2014.8 - Group E)

Tyrant's Eye
(邪王真眼)
(2014.8 - Group E)
Recommended Servers
---
---
Server ID & Tutorial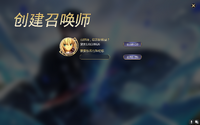 Server ID
Upon logging into a server, you need to create your own Player Name (Server ID). Your name can't be the same across different servers.
Logging into another server will ask you again to choose a name as each name you choose is only limited to the server that you logged in at.
Tutorial
After choosing your name, you will be thrown in a tutorial game and you'll be forced to pick your first hero Saber () and introduced yourself with the Instructor () before giving a choice to pick between Leaving the tutorial or Following the instruction to earn EXP and Gold rewards. 
 
It is recommended to follow the instruction and learn about the basic of the game before getting started in this game.
After you finish the tutorial you will get Saber for free as your first hero and earn both EXP and Gold that help you instantly reach the level 2 (you still get all of those free hero, Gold and EXP even you skip the tutorial). It's recommended to enter the practice mode in Eternal Arena at least once to train with the AI () and earn free EXP and Gold which you can get only once per server account (The other times you enter the practice mode and win the game, you will no longer gain Gold or EXP). This free EXP will instantly make you reach level 3.
After finishing both the tutorial and the practice mode, you will get a Level 1 Novice Package () that can be opened to obtain various rewards, including the next level of the novice package. Each novice package can be used only when you reach the level that matches with the package itself. The novice package on the next level will be given to you on each time you use the previous package as one of the rewards until reaching Level 10 of the package.
Note: If you don't get a novice package after finishing the tutorial or the practice mode, you can try to re-login the game once and the package will be delivered to your Item Interface.
---
---
Terms & Agreements
After the update on 2019.10.17, JUMP Network had updated its Terms & Agreements to match with the latest Privacy Policy of China. For the full contents of the Terms & Agreements of the JUMP Network, you can read them by clicking on the red link 上海剧跃网络科技有限公司用户服务协议. For the full contents of Privacy Policy, you can read them by clicking on the red link 隐私政策. Upon reading all information, If you agree with all of those conditions, please click on the Agree (同意) button to continue the game, or else click on the Disagree & Quit (不同意并退出) If you feel like all of those conditions are too much and don't want to continue this game anymore.
Community content is available under
CC-BY-SA
unless otherwise noted.