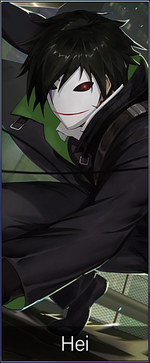 | | | | | | | | | | | |
| --- | --- | --- | --- | --- | --- | --- | --- | --- | --- | --- |
| HP | | | 6 | | | | | | | |
| AD | | | | 8 | | | | | | |
| AP | | | | | | | | | | |
| Support | | | | 7 | | | | | | |
| Difficulty | | 4 | | | | | | | | |
| Gold | 3000 | | | | | | | | | |
| Diamond | 45 | | | | | | | | | |
| | | | |
| --- | --- | --- | --- |
| Health Point | 540 (+75) | Attack Damage | 54 (+3.5) |
| Mana Point | 286 (+36) | Attack Speed | 0.67 (+0.03) |
| Armor | 35.5 (+3.5) | Move Speed | 295 |
| Magic Resist | 33 (+0.5) | Range | 130 |
Abilities
---
Electric Shock
Cost: -   Static Cooldown: 5 seconds
Passive - Hei's critical strikes paralyze enemy units, imprisoning target for 0.5 seconds. (This effect can't trigger more than once every 5 seconds)
---
Hei [Q]
Cost: 30 / 35 / 40 / 45 / 50 Mana   Cooldown: 6 / 5.5 / 5 / 4.5 / 4 seconds
Active - Hei throws his knife in a straight line, dealing 30/50/70/90/110 + [1.0 AD] physical damage and applying on-hit effects up to 3 enemies hit. Additionally, each target hit by his knife increases Hei's Critical Strike Chance by 10% for 8 seconds, the buff can be stacked up to 5 times for a total of 50% Critical Chance. When Hei critical strikes the target, he will consume all stacks of the buff that increases his critical chance.
Note - The damage of this skill is considered to be a basic attack, it can critically strike and apply on-hit effects (including Life Steal). It also triggers the reflection of Anti-Shock Armor.
Note - Each multiple targets Hei hits within a single knife, Hei's Life Steal triggers its effect on the main target by 100% of the Life Steal he has and 10% on each additional target the dagger hits through.
---
Yin [W]
Cost: -   Cooldown: 20 / 18 / 16 / 14 / 12 seconds
Passive - Hei gains 15% + 5/10/15/20/25 Armor Penetration.
Passive - Hei gains sight on all heroes within 3000/3500/4000/4500/5000 range that have less than 15%/20%/25%/30%/35% of their maximum Health but alerting them of his presence.
Active - Upon activation, the next cast of Hei [Q] within 4 seconds will forcefully pull Hei toward the last target hit by the knife (prioritizing enemy heroes) and trigger the paralyze effect from Electric Shock on the target.
Note - This skill can be used without breaking the invisibility of Shadow Trace [E].
---
Shadow Trace [E]
Cost: 40 / 50 / 60 / 70 / 80 Mana   Cooldown: 26 / 25 / 24 / 23 / 22 seconds
Active - Hei enters stealth for 6/8/10/12/14 seconds with a 1 second fade time, increasing his Movement Speed by 8% while in stealth. His next basic attack within the duration has a 100% chance to critically strike.
---
Bai [R]
Cost: 100 Mana Cooldown: 145 / 130 / 115 seconds
Passive - Hei's basic attacks or skills against non-hero units have a 20% chance to deal 300% damage.
Active - Hei focuses and channels for 2 seconds to teleport beside the target ally or enemy hero from a huge range. After the landing, His next basic attack within 5 seconds deals 150/250/350 + [0.5 AD] bonus physical damage.
Note - This skill can be used without breaking the invisibility of Shadow Trace [E].
---
Skins
---

Hei (Old CG)

Hei

Wine Waiter Hei

Big Boss

Crossdressing Hei

U47

White Blood Cell

Hitachi Mako

Sand of Eternal Night Hei
Community content is available under
CC-BY-SA
unless otherwise noted.