Jurassic World: Dominion Dominates Fandom Wikis - The Loop
Play Sound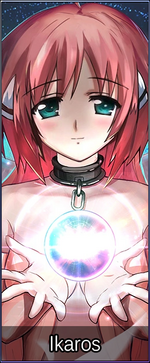 | | | | | | | | | | | |
| --- | --- | --- | --- | --- | --- | --- | --- | --- | --- | --- |
| HP | | |  6 | | | | | | | |
| AD | | | | | 9 | | | | | |
| AP | | | | | | | | | | |
| Support | | | 5 | | | | | | | |
| Difficulty | | | 5 | | | | | | | |
| Gold | 3000 | | | | | | | | | |
| Diamond | 45 | | | | | | | | | |
| | | | |
| --- | --- | --- | --- |
| Health Point | 560 (+77) | Attack Damage | 53 (+3.5) |
| Mana Point | 298 (+38) | Attack Speed | 0.67 (+0.03) |
| Armor | 28.5 (+3.5) | Move Speed | 300 |
| Magic Resist | 33 (+0.5) | Range | 530 |
Abilities
---
Variable Wing System
Cost: -   Cooldown: -
Passive - When Ikaros casts a skill or deals skill damage on an enemy unit, she gains [17 + Hero Level]% bonus Attack Speed and 15% bonus Movement Speed for 2 seconds.
---
Artemis [Q]
Cost: 40 / 45 / 50 / 55 / 60 Mana   Cooldown: 16 / 14 / 12 / 10 / 8 seconds
Passive - Each time Ikaros performs a basic attack on the target, she applies a stacking mark that lasts for 4 seconds, up to a maximum of 12 stacks. Her basic attacks that hit on a marked unit deal [0.06 Bonus AD] x [target's total marks] bonus physical damage (bonus damage can also critically strike).
Active - Ikaros shoots a survey bullet in a line that deals 30/60/90/120/150 + [0.35 Bonus AD] physical damage (150% damage against non-hero units) to all enemies and tracks all enemy heroes it passes through. She then shoots a continuous set of 4 bullets at each target, dealing 10/15/20/25/30 + [0.2 Bonus AD] physical damage per hit with each bullet having a 70% chance to apply a mark from this ability's passive effect on the target, otherwise, it will stun for 0.2 seconds.
---
Aegis [W]
Cost: -   Cooldown: -
Passive - Every 7 basic attacks, Ikaros will gain a shield that lasts for 6 seconds. When she takes damage, the shield is destroyed and the damage is nullified. If Ikaros doesn't take any damage within 6 seconds, the shield will disappear and revert to the required counters of her basic attacks that reduce by 1 every 5 seconds. The counter of this ability stops when she performs another basic attack. After the shield is destroyed, Ikaros gains 20% Damage Reduction for 0.5/0.65/0.8/0.95/1.1 seconds.
---
Icarus [E]
Cost: 30 Mana   Cooldown: 15 / 14 / 13 / 12 / 11 seconds
Active - Ikaros dashes toward a target area, her next basic attack deals 20/40/60/80/100 + [0.4 Bonus AD] bonus physical damage while applying a mark from Artemis [Q] on the target. Each basic attack on a non-hero / hero reduces the cooldown of this skill by 1 second | 1.5 seconds.
Note - Activating this skill resets Ikaros's basic attack animation after the dash ends.
---
Apollon [R]
Cost: 100 / 120 / 140 Mana   Cooldown: 100 / 90 / 80 seconds
Active - Ikaros fires an Apollon arrow with a global cast range in a straight line, dealing 100/175/250 + [0.7 Bonus AD] physical damage to all non-hero enemies the arrow passes through. The arrow explodes upon hitting on the first enemy hero, dealing 100/175/250 + [0.7 Bonus AD] physical damage, stunning the target for 0.5 seconds, and amplifying the damage target takes by 10%/20%/30% for 4 seconds. After the arrow explodes, the explosion will create a sustain damage area on the impact location,  dealing 25/35/45 + [0.35 Bonus AD] physical damage every 0.5 seconds for 4 seconds to enemies in the area.
---
Skins
---

Ikaros (Old CG)

Ikaros

Casual Ikaros

Pandora Ikaros

Queen of the Sky Ikaros

Jibril

Phoenix Ikaros