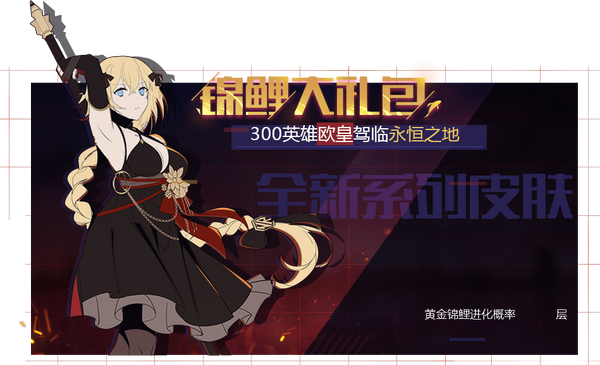 Event Time
Event Time: 10 September 2020 ~ 27 September 2020
Exchange Reward Time: 10 September 2020 ~ 27 September 2020
Event Information
Everyone can participate on this event by clicking on the Koi Big Package icon () on the Lobby Interface.
Players can get Koi Ticket () by buying specific packages from Item Mall.
Using Koi Ticket on this event will increase the stacks of Lucky Value, the higher the stacks of Lucky Value the higher the chance to win the Koi Big Package.
When using Koi Ticket to increase the stacks of Lucky Value, you will also get Koi Exchange Ticket ().
You can exchange Koi Exchange Tickets with rewards in Synthesizing System.
After the event is over, a fixed number of stacks of Lucky Value will be randomly selected, players with the number of stacks that is selected will get Koi Big Package (锦鲤大礼包).
A total of 8 players will be able to obtain Koi Big Package from this event.
The Koi Big Package grants players a full set of 2019 Championship Skin Series including skins for Cu Chulainn, Himeragi Yukina, Jeanne d'Arc, Jeanne d'Arc (Alter), Kikyou, Peiji, Yisha, Misaka Mikoto.
The rewards that can be exchanged with Koi Exchange Ticket is Tetsuya 2 (), using 1500 tickets.
The list of all packages that grant Koi Tickets is as follows:
Live Broadcast
Source: https://300.jumpw.com/details/299/13287.html
After the end of the event, the prophet will start live boardcast at 06.00 PM on 28 September 2020 to randomly select 8 players who have stacks of luck values from Koi Ticket as the lucky players who will receive the Koi Big Package.
Players can visit live broadcast to see the result at https://live.bilibili.com/4402332.
If players who receives the Koi Big Package already owned any skin from the package, the duplicated skin from the package of this event will be converted into ticket for exchange free skin of the same quality.
---
---