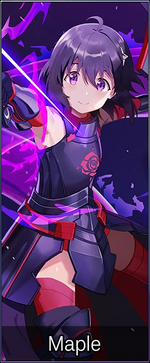 | | | | | | | | | | | |
| --- | --- | --- | --- | --- | --- | --- | --- | --- | --- | --- |
| HP | | | | | 10 | | | | | |
| AD | | | | | | | | | | |
| AP | | | | | | | | | | |
| Support | | | | 7 | | | | | | |
| Difficulty | | | | 8 | | | | | | |
| Gold | 12000 | | | | | | | | | |
| Diamond | 78 | | | | | | | | | |
| | | | |
| --- | --- | --- | --- |
| Health Point | 600 (+85) | Attack Damage | 55 (+0.0) |
| Mana Point | 318 (+0) | Attack Speed | 0.65 (+0.00) |
| Armor | 36 (+7) | Move Speed | 285 |
| Magic Resist | 33 (+2.5) | Range | 150 |
Abilities
---
 Absolute Defense
Cost: -   Cooldown: -
Passive (All VIT Stats) - Due to the unique way of adding stat points, Armor and Magic Resist growths of Maple will be twice of other heroes, but Maple will not have other stat growths as an exchange.
Passive (Absolute Defense) - The fixed values of Armor and Magic Resist that Maple receives from equipment will be doubled. In exchange, Maple will receive only 1/3 of Attack Damage, Ability Power, Health, Mana, and Attack Speed stats from equipment (excluding Movement Speed stat).
Passive (Meditation) - While out of combat, Maple restores 5% of her maximum Health every 10 seconds.
Passive (Great Shield Mastery IV) - Permanently reduces all damage Maple received by 4%, and her basic attacks will be able to stun enemy units for 0.5/0.75/1 seconds, the stun effect can trigger only once every 7/6/5 seconds (the interval is reduced at level 6 and 11).
Passive (Devour) - For every 15 seconds, Maple basic attacks on non-hero and non-monster units can instantly kill the target in a brief second (This effect is available only in Eternal Arena.
Note - When Maple receives any effect that reduces her maximum Health (such as Breath of Insect - Dance of the Bee Sting - True Flutter from Kochou Shinobu), the removed maximum Health will be abnormally higher its actual effect (triple of its actual effect).
 Duplicate Hero - Maple & Maple (Machine God)
Cost: -   Cooldown: -
Description - When someone selects Maple () or Maple (Machine God) () in the game mode that doesn't allow duplicate hero within the same team, all other players within the same team will not be able to choose the remaining Maple () or Maple (Machine God) () that isn't selected yet.
---
Shield Attack [Q]
Cost: 40 Mana   Cooldown: 14 / 13 / 12 / 11 / 10 seconds
Active 1st Cast (Shield Attack) - Shield Attack (1st Cast) - Maple unleashes the skill in front of herself in a fan-shaped area, inflicting 30/70/110/150/190 + [0.6 AD] physical damage and knocking all enemies hit back. After unleashing the skill, Maple will continue to hold the shield forward in a casting direction (the direction can't be changed until the effect ends) for 5 seconds, the shield nullifies all skill projectiles (excluding basic attacks) that hit it. Each blocked projectile will be converted to restore Maple's Mana by 50/55/60/65/70. While Maple holds up the shield, she will be able to cast Provocation [Q] as the 2nd cast of this skill once.
Note - While holding up the shield, Maple will be able to perform basic attacks or cast any skill, doing either of those acts will remove the visual effect of the shield that nullifies projectiles but not deactivating both the effect of holding the shield itself or the effect of nullifying projectiles.
Provocation [Q]
Cost: -   Cooldown: -
Active 2nd Cast (Provocation) - Maple lowers her shield, deactivating the effect of holding up the shield from the 1st cast and taunting all nearby enemies for 1/1.25/1.5/1.75/2 second.
---
Cover Move I [W]
Cost: - Mana   Cooldown: 0.5 seconds
Active - Maple initially charges toward the targeted allied hero and applies the Cover effect to the target for 3 seconds. The Cover effect reduces the damage received by 30% and transfers the reduced damage to be borne by Maple instead. This skill requires the consumption of 1 stack for each usage, the stack can be stored up to 3 times, and this skill has an interval to recharge a new stack every 14/13/12/11/10 seconds.
---
Hydra [E]
Cost: 35 Mana   Cooldown: 15 / 14 / 13 / 12 / 11 seconds
Passive (Inhumane) - Maple gains 1 stack of this skill when receiving a single attack that has damage exceeds 20% of her maximum Health, each stack increases 1% Damage Reduction. The Damage Reduction can be stored up to 15 stacks, and Maple can't gain more than 1 stack every 30 seconds.
Active (Hydra) - Maple summons 3 heads of the poisonous dragon Hydra to have each of its head launches an acid drop toward the targeted location in a fan shaped-area. When the drop of acid lands, each drop will spread to inflict 25/60/95/130/165 + [0.4 AD] physical damage to all enemies hit and form a poisonous field at the landing area that lasts for 5 seconds, same enemy unit can be hit by different spreads of acid drop from the same cast (up to 3 hits). The poisonous field will applies a Poison debuff to all enemies hit, the debuff inflicts 5/15/25/35/45 + [0.15 AD] physical damage every second and reduces the Movement Speed of all affected enemies by 20% for 5 seconds.
Note - Subsequent hits from the spread of the acid drops from the same cast against the same target deal 100% of its damage.
Note - When launching acid drops, the nearer the cast range the closer for landing location of each acid drop. At closest range, all 3 acid drops will be able to overlap its spread effect over the same location, dealing a total of 495 + [1.2 AD] physical damage as initial damage for skill level 5 against enemies units that are hit by all 3 acid drops.
---
Loving Sacrifice [R]
Cost: 50 Mana   Cooldown: 180 / 150 / 120 seconds
Active - After Maple activates the protective spell that will draw a magic circle around her while she be able to perform other actions. Upon completion of the magic circle, the spell will cast the protective aura over maple that increases her maximum Health by 275/450/625 and increases her own Armor and Magic Resist by 75%/100%/125% for 2.5 seconds. Within the duration of the protective aura, all damage allied heroes within the aura received will be borne by Maple instead.
---
Skins
---

Maple