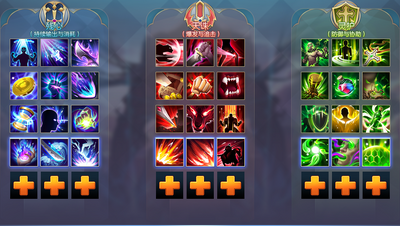 Talent or Mastery is a system where a player is able to provide bonus stats and effects to their heroes by allotting points on talent trees. Each talent tree has 3 sets of 9 basic talents with each set has 3 basic talents in it, 1 set for 3 advanced talents, and 1 set of 3 bonus talents with each bonus talent has 3 levels.
Basic & Advanced Talents
Each player can't pick basic talent or advanced talent from the same talent set more than 1 talent, and the advanced talent set will be unlocked only when the 3 basic talents from the same talent tree are already selected. Each player can select only up to 6 basic talents and 1 advanced talent.
Bonus Talents
When you select 1 basic talent of any talent tree, you will be able to select 1 bonus talent from the same talent tree. There are 3 bonus talents available on each talent tree and each of them has 3 levels. You can have more than one bonus talent, but you can't select more than one bonus talent from the same talent tree. The level of bonus talent you choose is equal to the number of basic talents you choose from the same talent tree.
Adjustment
Talents can be changed anytime when you are at the Lobby Interface and the talent points can be re-assigned such that it can be used to suit the type of hero you are playing. However, once you enter the game, you can't reselect the talent set you currently used until the game end. This adds a strategic element to your selection of talents as you must choose a set that will complement with your hero, skills, and teammates.
Talent Trees
There are three types of trees that players can develop as follows:
Awareness Talent (残心): For increasing continuous output and improving consumption (持续输出与消耗)
Judgment Talent (天诛): For outbreaking dire situations and pursuing enemies (爆发与追击)
Guardian Talent (灵护): For defending oneself and supporting allies (防御与协助)
Talent Pages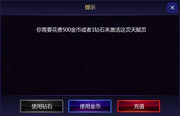 Talent Page is a set of talents that are selected and saved for that specific talent page number. These pages can be named for ease of selection during the character selection phase before entering a game. The first two talent pages are free but the consecutive pages cost 500 Gold. You can have up to 10 talent pages.
From left to right as follows:
Use Diamonds (使用钻石) - Pays 1 Diamond for each talent page (not recommended)
Use Gold Coins (使用金币) - Pays 500 Gold for each talent page (recommended)
Top Up (充值) - Go to Top Up page of 300 Heroes
Talent Options

From left to right and top to bottom as follows:
Save (保存): Saves the current talent page.
Restore (恢复): Undoes all changes to the current talent page.
Empty (清空): Resets the current talent page back to scratch.
Delete (删除): Deletes the current talent page.
Community content is available under
CC-BY-SA
unless otherwise noted.