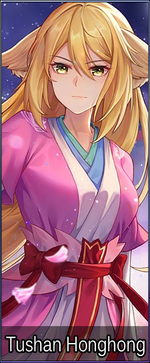 | | | | | | | | | | | |
| --- | --- | --- | --- | --- | --- | --- | --- | --- | --- | --- |
| HP | | | 6 | | | | | | | |
| AD | | | | | 10 | | | | | |
| AP | | | | | | | | | | |
| Support | | | 5 | | | | | | | |
| Difficulty | | | 6 | | | | | | | |
| Gold | N/A | | | | | | | | | |
| Diamond | 45 | | | | | | | | | |
| | | | |
| --- | --- | --- | --- |
| Health Point | 586 (+78) | Attack Damage | 56 (+3.5) |
| Mana Point | 0 (+0) | Attack Speed | 0.66 (+0.03) |
| Armor | 35 (+3.5) | Move Speed | 305 |
| Magic Resist | 33 (+1.25) | Range | 160 |
Abilities
---
 Lord of Foxes
Cost: -   Cooldown: -
Passive - Tushan Honghong's basic attacks deal 14 + [Hero Level x 2] + [0.25 Bonus AD] + [0.3 AP] bonus physical damage.
Passive - When Tushan Honghong's basic attacks or skills hit an enemy hero / non-hero unit, her Demon Energy will be increased by 10 / 2. Tushan Honghong can store up to 100 Demon Energy. While out of combat, Tushan Honghong's current Demon Energy is reduced by 5 per second. For every 10 Demon Energy she receives, the Attack Speed of Tushan Honghong will be increased by 3%/4%/5%/6% for 6 seconds, can be stacked up to a total of 45%/60%/75%/90% (the increment is upgraded at level 6/11/16).
---
  1st Style of Exorcism / 3rd Style of Exorcism [Q]
Cost: -   Cooldown: 13 / 12 / 11 / 10 / 9 seconds
Active 1st Cast (1st Style of Exorcism) - Tushan Honghong dashes forward and pushes all enemies in the path along until the end dash effect before knocking them back for a certain distance, inflicting 60/95/130/165/200 + [0.75 Bonus AD] physical damage to all enemies that are pushed. If the knocked back enemies are hit with terrains or buildings, they will be stunned for 0.5 seconds. Upon casting this skill, Tushan Honghong will be able to use the 2nd cast of this skill once.
Active 2nd Cast (3rd Style of Exorcism) - Tushan Honghong consumes all current Demon Energy and hits the target with a powerful blow to inflict [1.25 AD] physical damage and knock the target up. Each 1 Demong Energy that is consumed increases the damage of this skill by [0.01/0.0125/0.015/0.0175 AD] bonus physical damage and the height of the knock up effect by 4%. The attack from this skill is regarded as a basic attack and only [1.0 AD] damage from this skill can trigger critical strike.
---
 Fox Spelling Art [W]
Cost: -   Cooldown: 14 / 13 / 12 / 11 / 10 seconds
Active - Tushan Honghong inflicts 60/90/120/150/180 + [0.5 Bonus AD] + [1.0 AP] magic damage to all enemies nearby and reduces their Movement Speed by 30%/35%/40%/45%/50% for 2.5 seconds. Upon activation, this skill also restores Tushan Honghong's Health by 25/50/75/100/125 + [0.7 AP]. Each enemy hit by this skill also increases the healing received from the same cast of this skill by 5/10/15/20/25, up to 25/50/75/100/125. While within the effect of Insulating Claws state, this skill will also confuse (inflicting fear effect) all enemies hit for 1 second.
---
Demon Energy Blast [E]
Cost: -   Cooldown: 24 / 22 / 20 / 18 / 16 seconds
Active - Tushan Honghong condenses Demon Energy into the earth before launching the gravel from the ground in a form of a barrage of rock bullets that flies forward, the barrage is splitting apart in a fan-shaped area the further the distance, inflicting 60/100/140/180/220 + [0.7 Bonus AD] + [0.5 AP] physical damage to all enemies hit. After the gravel reaches the targeted location or its maximum distance, each rock bullet will bombard the ground to produce an invulnerable stone pillar in its current position, forming a wall of rock in a horizontal fan-shaped area. The stone pillars are regarded as indestructible terrains that can be used to block unit's Movement for 4 seconds.
---
Insulating Claws [R]
Cost: -   Cooldown: 120 / 110 / 100 seconds
Passive - Tushan Honghong has a 25% chance to reduce the skill damage received by [30/40/50 + ([0.5 Bonus AD/1.0 Bonus AD + 750] x 100)]%.
Active - Upon activation, Tushan Honghong grants 50/75/100 Demon Energy and enters the Insulating Claws state that grants 20% bonus Attack Damage and 20%/30%/40% bonus Movement Speed to herself for 5/6/7 seconds. While within Insulating Claws state, Tushan Honghong becomes immune to all crowd controls and increases the chance to trigger the passive effect of this skill to 100% chance.
Note - Based on the formula for calculating the additional skill damage reduction from the passive effect, the additional reduction is equal to 5.9%/10.5%/14.3%/20%/25% at 100/200/300/500/750 bonus Attack Damage.
---
Skins
---

Tushan Honghong

Chihuan Honghong